Party Smarter – Safer Events and Festivals Campaign
The Party Smarter campaign seeks to reduce illicit drug related harm at high-risk settings including festivals, events and night venues in Western Australia.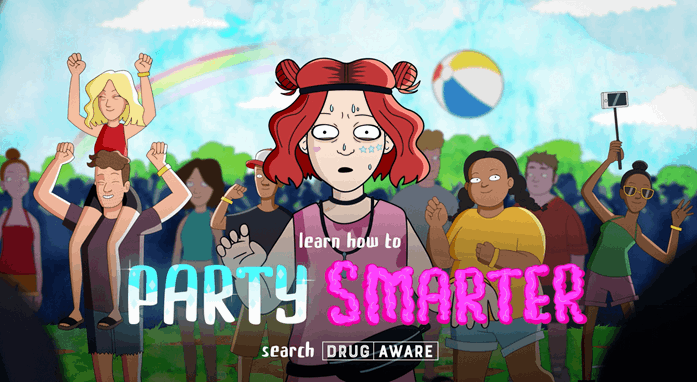 The Drug Aware, Action Area Two, Safer Events and Venues 'Party Smarter' campaign commences on 10 October 2021 and will conclude in March 2022. 
The campaign aims to contribute to reducing illicit drug-related harm at music festivals, events, and venues in Western Australia. A combination of individual factors, the drug itself and the environment in which it is taken determines the potential harm. This is demonstrated in the Drug Interaction Model.1 Due to factors closely linked to music festivals and other entertainment events such as high temperatures, extended periods of physical activity (dancing), close proximity to others, and lack of access the effects the drug taken can be exacerbated.2
The 'Party Smarter' campaign uses a combination of a highly targeted digital and social media strategy, out of home, and in-venue messaging to increase awareness of the potential harms of drug use at events and music venues, what individuals can do to reduce the potential of harm occurring and what signs they should look out for to know if they need help and to seek help urgently. Drug Aware also worked with event organisers to make environmental changes to support campaign messages such as  access to water at events and providing areas to chill out.
Last updated October 2021
About the campaign
Campaign materials
Campaign evaluation
References