What are you getting into?
Drugs alter a person's mood, thinking and behaviour. People take them for a range of reasons and the effects vary from person to person.
What is a drug?
What is a drug?
A drug is any substance (with the exception of food and water) which, when taken into the body, alters the body's function either physically and/or psychologically. Drugs may be legal (e.g. alcohol, caffeine and tobacco) or illegal (e.g. cannabis, ecstasy, cocaine and heroin).
What is a psychoactive drug?
Psychoactive drugs affect the central nervous system and alter a person's mood, thinking and behaviour.
Effects of drugs
The experience that a person has when using other drugs will be affected by their individual characteristics, the drug and the environment or place.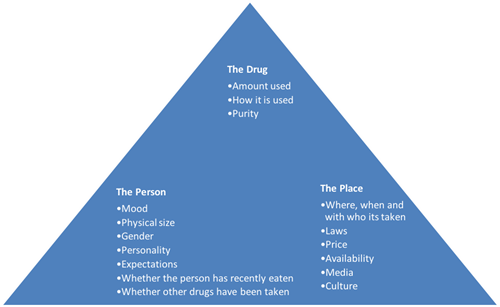 Why do people use?
People use drugs for a variety of reasons. Some of these include:
Out of curiosity
To do something exciting or fun
To fit in or socialise
To escape and forget problems
To relax
To gain confidence
To lessen inhibitions
To remove personal responsibility for decisions
To celebrate or commiserate
To relieve boredom and stress
 Friends, parents, older brothers and sisters and the media can also influence a young person's decision to use drugs.
Drug trends
In Western Australia 16.8% of people aged 14 years or older used an illicit drug or misused a pharmaceutical in 2016. 
In comparison, Alcohol was used recently by 75% of people 14 years or older.
The main types of drugs used in Western Australia in 2016 were:
| | |
| --- | --- |
| Drug | Percentage |
| Cannabis | 11.6% |
| Pain-killers/analgesics and opioids # | 3.7% |
| Ecstasy | 3.2% |
| Meth/amphetamines | 2.7% |
| Tranquillisers/Sleeping pills # | 1.8% |
| Cocaine | 1.6% |
| Hallucinogens | 0.9%* |
| Inhalants | 0.6%* |
| New Psychoactive Substances | 0.5%* |
# Used for non-medical purposes. Excluding over the counter pharmaceuticals. 
* Estimate has a relative standard error of 25% to 50% and should be used with caution.
Looking for info about the effects of a specific drug?
Check out the Drug Types page here.